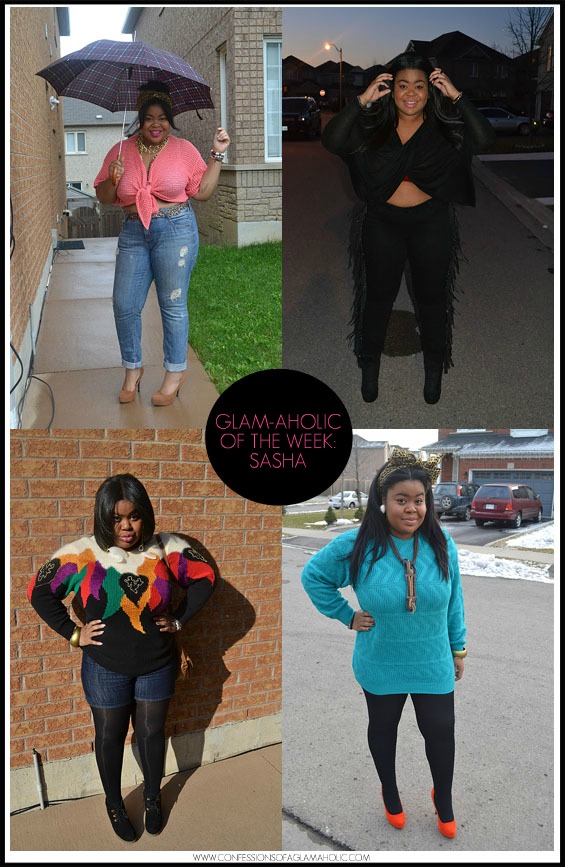 Mia Ray: What does FASHION mean to you? Fashion to me, is a form of expression. It's a way to express how you feel and what you like without saying a word. Often times, people insist that fashion should be full of guidelines and rules. Do's and don'ts. But really, your interpretation may not be mine. Fashion can be therapeutic. It is to me.
Mia Ray: What are some of your favorite trends that are happening right now? I'm really loving the "high-wasted denim shorts and stockings" look. Love the wedge heel and block heel trend! Those are like heavenly support for the big girl! 
Mia Ray: What are your 3 favorite hot spots to hit and find haute pieces? My 3 favorite hot spots to hit up would have to be The Black Market (Thrifting/Vintage) up here in Toronto, Shauna's Closet & believe it or not –Forever 21 Plus.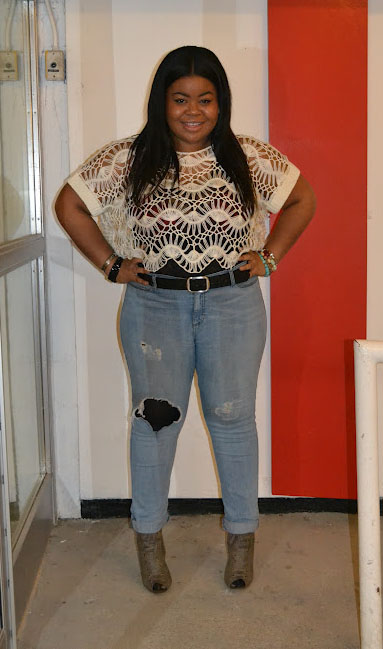 Mia Ray: What trends do you love that mostly describe and inspire your style? A trend that I love that really describes my sense of style would have to be the whole color blocking epedemic. I love colors and I think everyone should have a chance to funk it up a little by totally breaking the "matching" rules. I do agree that even color-blocking can be done so wrong, but like I said earlier…It's really what YOU like.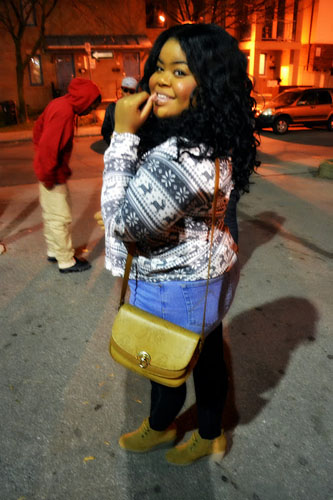 Mia Ray: What are 3 things in your closet that you can NOT live without? Three things in my closet that I CANNOT live without would have to be: My heels. My leggings. And my handbags.
Mia Ray: Who do you look up to in the fashion industry? And who are your top 3 most fashionable celebs? I would say that the one person I truly look up to in the fashion industry would have to be Kelly Cutrone. Although, she herself isn't a fashion "icon" per say, she sure knows what she's talking about when it comes to this industry. I love her "no garbage" attitude. And I adore that she truly could care less about what people think of her. At the end of the day, EVERYONE knows that despite her choice of clothing, she knows what she's talking about and she gets the job done. My top three most fashionable celebs would have to be: Rihanna, Nadia Aboulhosn and Sarah Jessica Parker. (Nadia might not be considered a serious celeb YET…but she is in my eyes! The girl can DRESS!)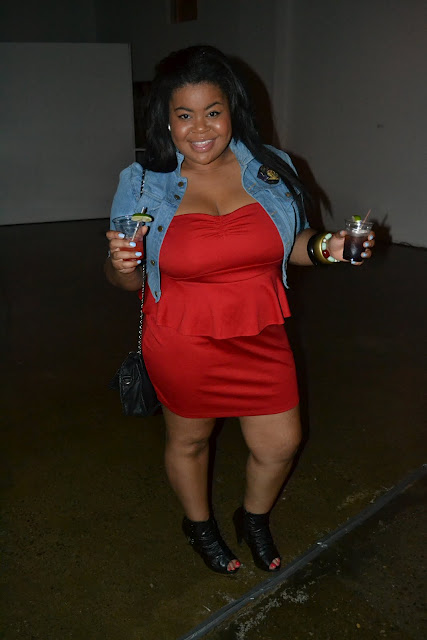 Mia Ray: What tips can you give our Confessions Of A Glam-Aholic readers on how to achieve stylish looks? The style advice that I would give to the Glam-Aholic would have to be: Dress for YOURSELF. I don't think you can really have your won style if you still care about whether you're doing it right or not. How exactly do we know what "stylish" even means. Gather the things that you LOVE, sort 'em out and work it out! Never get something that you "like". Only the things that you LOVE. If you LOVE it; you'll wear it. And when you wear it, chances are you'll be confident in it. Which usually results in you looking darn good in it! Style is way to broad to put it into a box. I say step the heck out of the box, or just destroy the darn box on a whole!
Check out more from Sasha at her blog www.flawscouture.com, tumblr www.flawsofcouture.tumblr.com, Twitter @FlawsofCouture and Facebook!